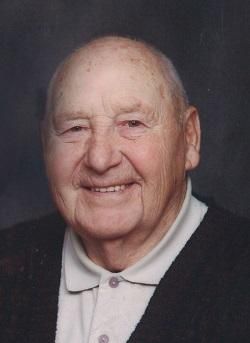 Hugh Chornaby
December 2, 2021
Death Notice of Hugh Chornaby
Hugh Ralph Chornaby, of RR#4 Chesley, passed away at the South Bruce Grey Health Centre, Chesley on Thursday, December 2nd, 2021 in his 93rd year. Beloved husband of Irene (nee Weber). Loving father of Dave Chornaby and his wife Patricia, Cheryl Chornaby, Tony Chornaby, and Chris Chornaby and his wife Kim. Cherished grandfather of Matthew and his wife Victoria, Alyssa and her partner Isaiah, Brandon and his partner Marcy, Kayla and her partner Alex, and Ashley. Proud great-grandfather of Sienna. Dear brother of Ralph Chornaby, and Victor Chornaby and his wife Shirley. Predeceased by his siblings Margaret Chornaby, Ronald Chornaby, Douglas Chornaby, Robert Chornaby, and Joyce Chowela. Hugh was a veteran of the Korean War and served in the Royal Canadian Navy on the HMCS Huron. He had a long career working for Canada Post in Cambridge, Walkerton and he finished his career in Hanover. Hugh was an active member and lector at St. Anne's Catholic Church in Chesley and Holy Family Catholic Church in Hanover.
Visitation will be held at Holy Family Catholic Church, 352 10th Avenue, Hanover on Wednesday, December 8th from 10:30 - 11:45 a.m. A mass of Christian burial will follow at 12 p.m. Due to Covid-19 protocols masks are required and social distancing must be respected on church property. We encourage you to book a visitation time and you MUST reserve a seat for the service. Bookings can be done by visiting the death notice on the Funeral Home website (www.mccullochwatsonfuneralhome.ca) and click "make a reservation" to confirm your attendance or by calling the Funeral Home at 519-369-3837. Friends and extended family are welcome to watch the service livestream by visiting the home page of McCulloch-Watson Funeral Home website (mccullochwatsonfuneralhome.ca) or the McCulloch-Watson Facebook page (https://www.facebook.com/mccullochwatson/). The video will remain posted for viewing afterwards. Interment at Chesley Cemetery.
As an expression of sympathy, memorial donations to St. Anne's Catholic Church or Holy Family Catholic Church would be appreciated by the family. Arrangements entrusted to the McCulloch-Watson Funeral Home, Durham.
Watch Video Here