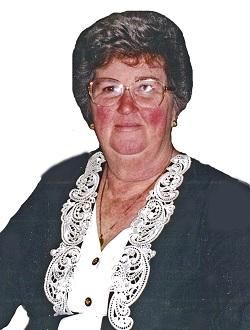 Dorothy Mead
February 16, 2022
Death Notice of Dorothy Mead
Dorothy Helen Mead (nee Schafer), of Durham, passed away at the South Bruce Grey Health Centre, Durham on Wednesday, February 16th, 2022 in her 82nd year. Beloved wife of the late Orville Mead. Dear sister of Liz and her husband Jerry Kueneman of Hanover, John Schafer and his wife Ev of Hanover, Larry Schafer and his wife Dianne of Hanover, Gerry Schafer of Toronto, Carl Schafer and his wife Lucretia of Durham, and Michael Schafer and his wife Diane of Ithaca, New York, and sister-in-law of Linda Schafer. Also remembered by Orville's children; Paul and Shelley Mead, Laurie Garland, and Erin Emm and their families. Special Aunt Dorothy to her many nieces, nephews, great-nieces and great-nephews. Fondly remembered by her dear friends Ruth and Earl Reist. Predeceased by her parents Walter and Catherine Schafer, her brother Dave, her sister Catherine and her stepdaughter Krista Mead.
Dorothy graduated from St. Joseph's Hospital of Nursing in Guelph as a Registered Nurse and her nursing career included working in Germany for one year and then at St. Michael's Hospital in Toronto. In 2015 Dorothy received the Sovereign's Medal for Volunteers from the Canadian Armed Forces for her donation of crocheted afghan blankets to Base Borden. The blankets were presented to those recovering from an injury or illness, or to families of the fallen. Dorothy was active in the Durham Community, volunteering for many organizations, and she was a quiet and generous philanthropist.
A private Mass of Christian Burial will be held. Friends and extended family are welcome to view a recording of the service on Tuesday, February 22nd at 10 a.m. by visiting the home page of McCulloch-Watson Funeral Home website (mccullochwatsonfuneralhome.ca) or the McCulloch-Watson Facebook page (https://www.facebook.com/mccullochwatson/). The video will remain posted for viewing afterwards. Spring interment at St. John's Catholic Cemetery.
As an expression of sympathy, memorial donations to the Durham Hospital Foundation, St. Peter's Catholic Church or Canadian Cancer Society would be appreciated by the family.
Watch Video Here