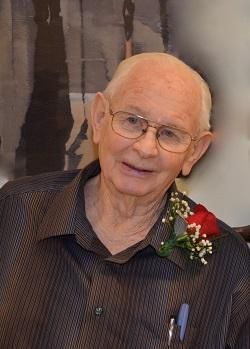 Frank Ewald
February 28, 2022
Death Notice of Frank Ewald
Frank William Ewald of Durham, slipped away from this side of earth peacefully in his sleep, with his middle daughter beside him, at 12:45 AM Monday, February 28, 2022, and made his triumphant entry through the pearly gates of heaven to be with his Lord and Saviour for eternity! Family surrounded him throughout the day singing hymns and sharing scripture; even throughout the night hymns were sung with "Blessed Assurance" ushering him into heaven to hear the Lord say, "Well done thou good and faithful servant".
Frank is lovingly remembered by his beloved wife of 64 years, Anna Bernice Ewald (nee Reimer) and his 5 Children: Carol Ann & John Bender, Frank & Pamela Ewald, Janice & Bob Abbott, Bruce & Angela Ewald and Barb & Rob Halpin. He is proud Grandfather of 16 grandchildren, and their partners and 27 great-grandchildren.
Frank is survived by his two younger brothers, his youngest brother Dave & Judy Ewald, and brother George Ewald & predeceased sister-in-law Shirl; also predeceased by his parents George & Rosella Ewald and by his dear sister Margaret & brother-in-law Ray Green.
Frank pursued many interests from a young age, black-smithing the Niagara Falls iron work railings, Great Lakes Seamen, T. Eaton Co. Salesman, progressing to a self-made business man as a Landlord of multiple buildings, Shell Fuel Business owner, Farmer, Mutual Life Assurance Agent and Luau Motel & Cottages owner. Frank semi-retired early, travelling North America for several years with his wife, Anna, and enjoying many winters in Florida. They then settled in Durham, close to their many children and grandchildren. Frank loved to drive his tractor clearing snow and cutting grass for many neighbours. He also loved to drive around on his little motorcycle.
Most of all, Frank loved his Lord and Saviour. His faith, and Church were extremely important in his life, and he was a wonderful example sharing his faith with his children, grandchildren and great grandchildren. Frank & Anna prayed daily by name for each child, grandchild and great-grandchild throughout their life.
Frank was a Deacon, and Church Treasurer with the Missionary Church in Hanover, Collingwood and Wasaga Beach. He was a Gideon, a member of the Welland Canal Mission, also a financial supporter of many other missions. Frank was generous to whoever was in need.
The Lord watched over his life - his coming and going both now and forevermore.
Psalm 121:8,
A funeral service celebrating Frank's life will be held at Hanover Missionary Church, 628 11th St, Hanover, on Monday, March 7th at 3 p.m. Due to Covid-19 protocols masks are required and social distancing must be respected. If you wish to attend the visitation and/or service please visit the death notice on the Funeral Home website (www.mccullochwatsonfuneralhome.ca) and click "make a reservation" to confirm your attendance or call the Funeral Home at 519-369-3837. Friends and extended family are welcome to view a recording of the service on Tuesday, March 8th at 4 p.m. by visiting the death notice on the McCulloch-Watson Funeral Home website and click "watch service". The video will remain posted for viewing afterwards.
As an expression of sympathy, memorial donations to ShareWord Global (formerly Gideons) or Youth Unlimited YFC Hanover would be appreciated by the family.