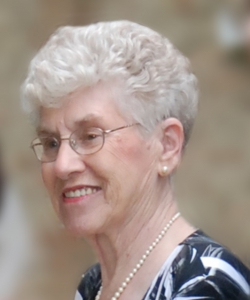 Death Notice of Anna Ewald
I have fought the good fight, I have finished the race, I have kept the faith. 1 Timothy 4:7

Anna Bernice Ewald (nee Reimer) of Durham, Ontario, passed into the glory of heaven on Tuesday, June 21, 2022. Mom went to meet Jesus, her Lord and Saviour, on the first day of summer. Mom had a stroke over a week ago and throughout the week family surrounded her singing hymns, reading scriptures, and reminding her of the promises of God. She is now with husband of 64 years, Frank William Ewald, who died February 28, 2022. At that time Mom sent Him with a message to "Tell God to hurry up and get me too!"

Anna is lovingly remembered by her five children Carol Ann & John Bender, Frank & Pamela Ewald, Janice & Bob Abbott, Bruce & Angela Ewald, Barbara & Rob Halpin, also her 16 grandchildren, their spouses/partners, and 27 great-grandchildren.

Anna is one of eight children and is survived by Violet Schroeder, Art Reimer, Alice Smith, Arnold (Frances) Reimer, and Donald Reimer. Predeceased by her husband, Frank William Ewald, parents John & Mary Reimer, sisters Esther and Charlotte.

Anna was born to John and Mary Reimer on April 28, 1930 in Saskatoon, Saskatchewan. Anna followed her childhood dream of being a registered nurse and graduated from Providence Hospital in Moose Jaw, Saskatchewan on Sept. 10, 1952. Her career took her from Saskatchewan to Chicago, California, and Ontario. In her profession mom was both a teaching nurse and a head nurse. Mom married Frank Ewald on September 7, 1957 and worked alongside Frank in their life's adventures that included farming, general manager at Ewald Fuels, landlords of several properties, owners of the Luau Motel & Cottages in Wasaga Beach. Taking an early retirement, they loved travelling throughout North America in their motorhome before settling down and splitting time between Florida and their Auburn, Ontario riverside property.

Anna loved Jesus and this was visible throughout her life. She was an active leader in her church's Women's Group and teaching Sunday School. She and Frank were also Hanover Missionary Church Youth Sponsors, members of Welland Canal Mission, and Gideons. Anna lived and shared both her faith with her children, grandchildren and great-grandchildren. She modeled her family life after her parents and her Mennonite heritage. Anna and Frank prayed for each child, grandchild and great-grandchild daily throughout their lives.

Anna had the Gift of Hospitality, sharing many meals with all who entered her home. Anna and Frank were generous to their Church, many ministries, missionaries, and offered time and financial support to many individuals who they saw experiencing challenging times. Mom's grace and kindness was very evident throughout. We are so thankful to God for giving us such a wonderful Mom, Grandma, and Great-Grandma.

Mom, we love you and look forward to seeing Jesus with you and Dad in heaven when He takes us home or comes again!

When Mom and Dad needed more care, they moved to Sprucewood Lodge Assisted Living in Hanover and we thank them for their support. As mom and dad's health deteriorated, they moved to Rockwood Terrace. As a family we have been amazed at the love and care that the incredible staff at Rockwood Terrace shared with our parents. We cannot thank them enough!
Therefore, as God's chosen people, holy and dearly loved,
clothe yourselves with compassion, kindness, humility, gentleness and patience
And over all these virtues put on love, which binds them all together in perfect unity…Col. 3:12-14

Visitation will be at the Hanover Missionary Church, 628 11th Street, Hanover on Thursday, June 30 from 12:30 to 1:15 p.m., followed by a funeral service at 1:30 p.m. Family and Friends are welcome. Interment will be at the Durham Cemetery. Those unable to attend in person may view the service the following day on the McCulloch-Watson Funeral Home website.

As an expression of Sympathy, memorial donations to ShareWord Global (Formerly Gideons) or Youth Unlimited YFC Hanover would be appreciated by the family.

Arrangements entrusted to the McCulloch-Watson Funeral Home, Durham.

Celebrating the life of Anna Ewald
Photo slideshow honouring the life of Anna Ewald